Pricing
Anti-Aging RegenerAge Products
All RegenerAge products contain BioQuantine, the ingredient that resets the cell to a younger, less damaged state. By working at the root cause, RegenerAge uniquely provides a long-lasting anti-aging strategy that works on the cellular level for superior results!
Advanced Cellular Renewal Cream
VivaQuantine
Anti-Aging Supplement
FAQ
Frequently Asked Questions
When can I expect results?
Everyone's skin is different. However, research shows that improvements in the dermal matrix and collagen levels were observable after 9 (nine) days. In two months, the changes were obvious and visibly noticeable.
Some users see noticeable benefits in 2 weeks while others take 4 weeks. It takes an average of 28 days for your skin cells to turn over. As RegenerAge begins to reprogram your cells, visible results become apparent. Since the main ingredient, Bioquantine®, evolves with time, your results are continually improving! Supplementation with VivaQuantine increases the results.
How do I get these anti-aging products?
First, click the button on the product you wish to order. Then, complete the secure checkout page. Feel good about this smart decision and the new possibilities of better and healthier skin. Your order will be processed and shipped within 48 hours and sent directly to your door.
Amazing skin starts with clicking the button below right now. We're so excited for you to try Advanced Cellular Renewal Cream. 
Tell me more about BioQuantine.
Our ground-breaking ingredient, Bioquantine®, provides 94 peptides, optimized by evolution and nature. The first and only formula on the cosmetic market that enhances skin with so many active peptides is Regenerage. These peptides increase elasticity and build collagen and much more. . .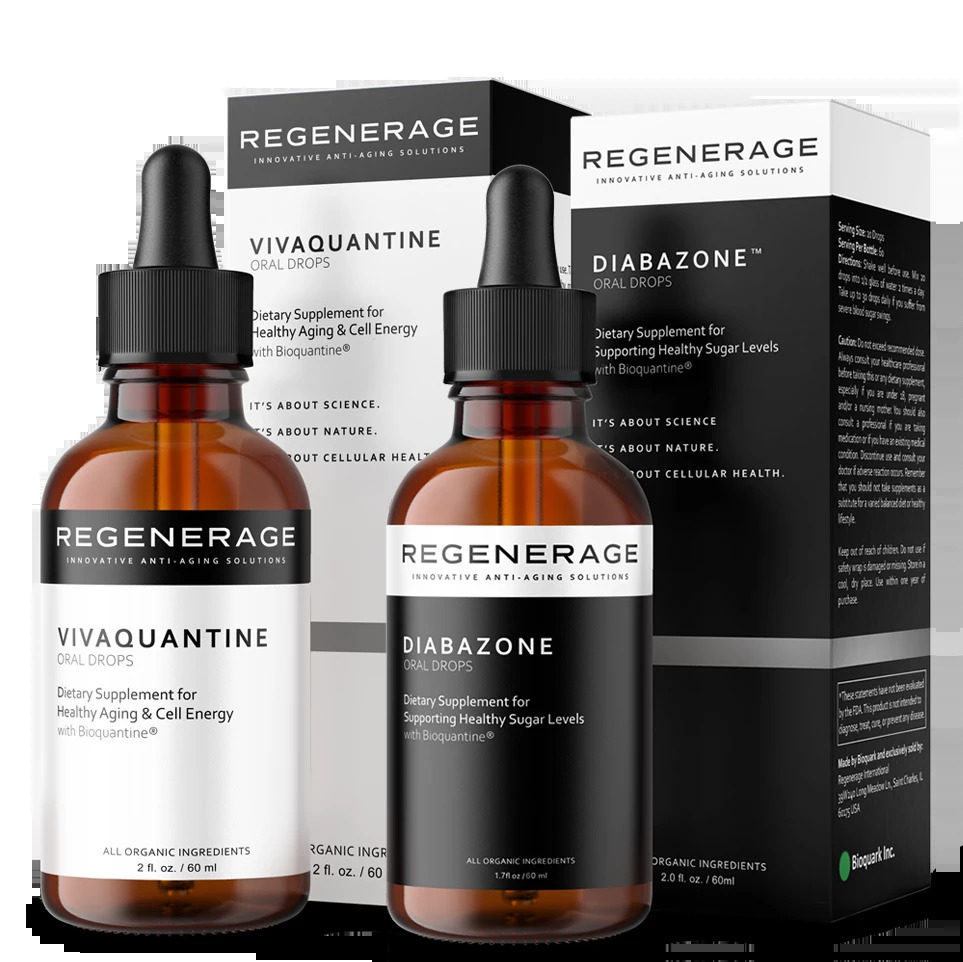 How will RegenerAge help me to look younger?
Your skin "looks younger" when wrinkles and dark spots are diminished and replaced with a healthy, brighter look. Advanced Cellular Renewal Cream uses only 100% natural ingredients like Kakadu plum to moisturize and nourish the skin. The active ingredient, Bioquantine®, eliminates the appearance of wrinkles over time, when used regularly.
How are these products different from other anti-aging creams?
The science of skincare technology keeps advancing, but significant labels keep putting the same basic products on shelves. They may include several peptides for added benefit, but  investing in new formulas is time-consuming, and most customers won't know the difference.
At Regenerage, we're leveraging new advances to provide products that work better than those in the past. After all, that's how advancement works!
Besides using several advanced technologies, the active ingredient, BioQuantine, is the major difference and allows RegenerAge to work in a completely different manner than any other product – resetting cell's age to a younger, more healthy state for better-looking skin!
What is in RegenerAge cream that feels so good?
Advanced Cellular Renewal Cream does more than soften and smooth your skin—it's designed to be a multivitamin, or "superfood" for your skin. RegenerAge hand-selected organic ingredients specifically for their benefits. This includes various minerals, vitamins, and antioxidants.
For example, Swertia Chirata extract is the latest discovery in self-regenerative skin rejuvenation technology. Coming from Indian Gentian leaves, it has been specially formulated to encourage skin cell growth, targeting pigmentation and uneven skin tone, creating a bright and luminous complexion.
Kakadu Plum is the richest source on the planet of vitamin C and antioxidants to reduce wrinkles and fine lines.
Polyglutamic acid is 10x more moisturizing than hyaluronic acid and far more elastic than collagen for powerful skin hydration and protection.
704-247-7269
Kathy@SkinThatRenews.com